Return to school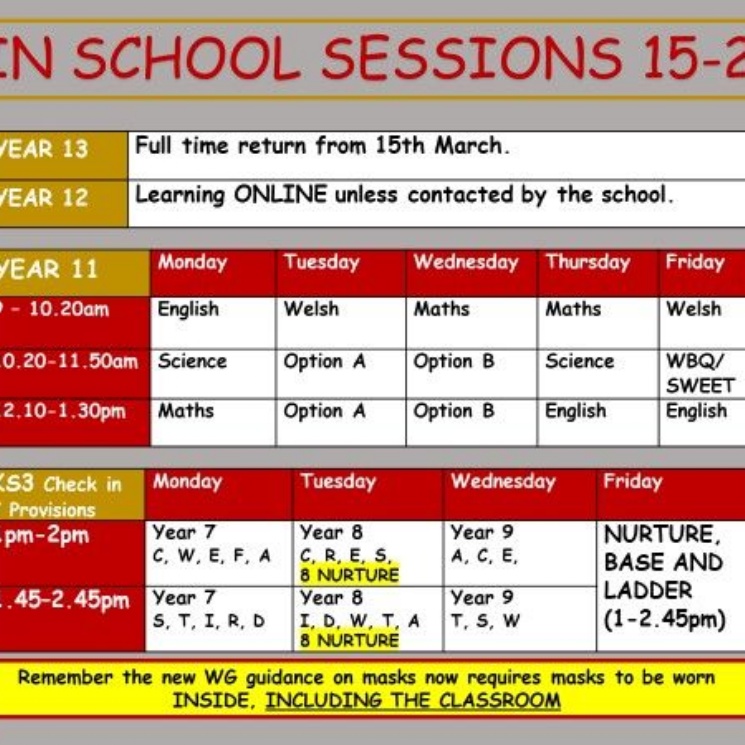 Please see the attachment at the end for the timetables
9th March 2021
Dear Parents,
We are looking forward to welcoming more students back into school from Monday 15th March 2021 in line with recent WG announcements. We would like to use this opportunity to share with you our final plans to ensure your child can safely return to school and continue learning remotely in a productive way when not in school.
As outlined in my letter last week, years 11 and 13 will return to lessons in school and year 10 will return for part of the day on Thursday's for English and Maths sessions. Years 7-9 will also have an opportunity to "check in" before the Easter Break to re-establish routine, check wellbeing and promote the importance of health and safety. Pupils in the key worker hub will continue to enter via main reception and will work in the area at the front of the school and must remain as one bubbles (not mixing with any other pupils). They will NOT attend the catch-up sessions for their year groups and can not mix with these pupils. The vulnerable learner hubs will not run from 15th March to allow us to accommodate our face to face provision.
Here are the details for the 15th – 26th March
When the pupils return to school they will need to ensure that they are in full school uniform and wear a mask inside the building at all times, including classrooms (until further notice as guided by welsh government). We ask pupils to make their way to school respectful of covid-19 rules within the community. Pupils should not mix with other year groups and must not break the 2m social distancing rule with any member of staff.
When they first arrive, they will need to go to the following places:
Year 11 – 13: Post 16 building. Staff will meet and greet.
Year 10: Enter via the English doors and head straight to the main hall. All lessons will be in English rooms.
Year 9 : Enter via the dining hall and go to the main hall.
Year 7 and 8: Go straight to the sports hall on arrival.
With the changing situation we need all parents / carers to ensure that pupils are engaging fully in home learning timetable all the way through to the 26th March. We ask you to be mindful that staff are balancing a range of provisions which include the teaching of year 11 and 13 daily on the school premises, increased year 10 provision, catch up sessions, key worker hub and continuing remote learning. We have amended the home learning TT in the light of these new requirements, as required by WG in the run up to the Easter break on 26th March. Please find a copy of the timetable for home learning at the end of this letter. We anticipate all pupils returning fully after the Easter break and will provide more details as soon as possible.
All staff in school will be using the lateral flow tests twice a week. Please ensure that you remind your son/daughter of the need for hand hygiene, social distancing and correct use of face coverings. In the most recent guidance provided to schools it states that face coverings must always be worn inside the building. The only exception is when students are eating. This is a change and means that students have to wear their mask in the classroom. We must insist on this and we need your support to ensure that everyone is safe. If your son/daughter refuses to wear a mask, we will have to ask you to pick them up from school. We sincerely hope that this is not needed, and we know that you will fully support us in our quest to maintain safety for everyone. Students will not have to wear their mask outside and we will encourage them to go outside at break/lunchtime.
Thanks for your ongoing support. Please keep an eye on our website and social media for more details.
Yours Sincerely,
Mr. M. Hulland.
Headteacher.
Cardiff West CHS.