Latest News
23/6/20
Latest news on school re-opening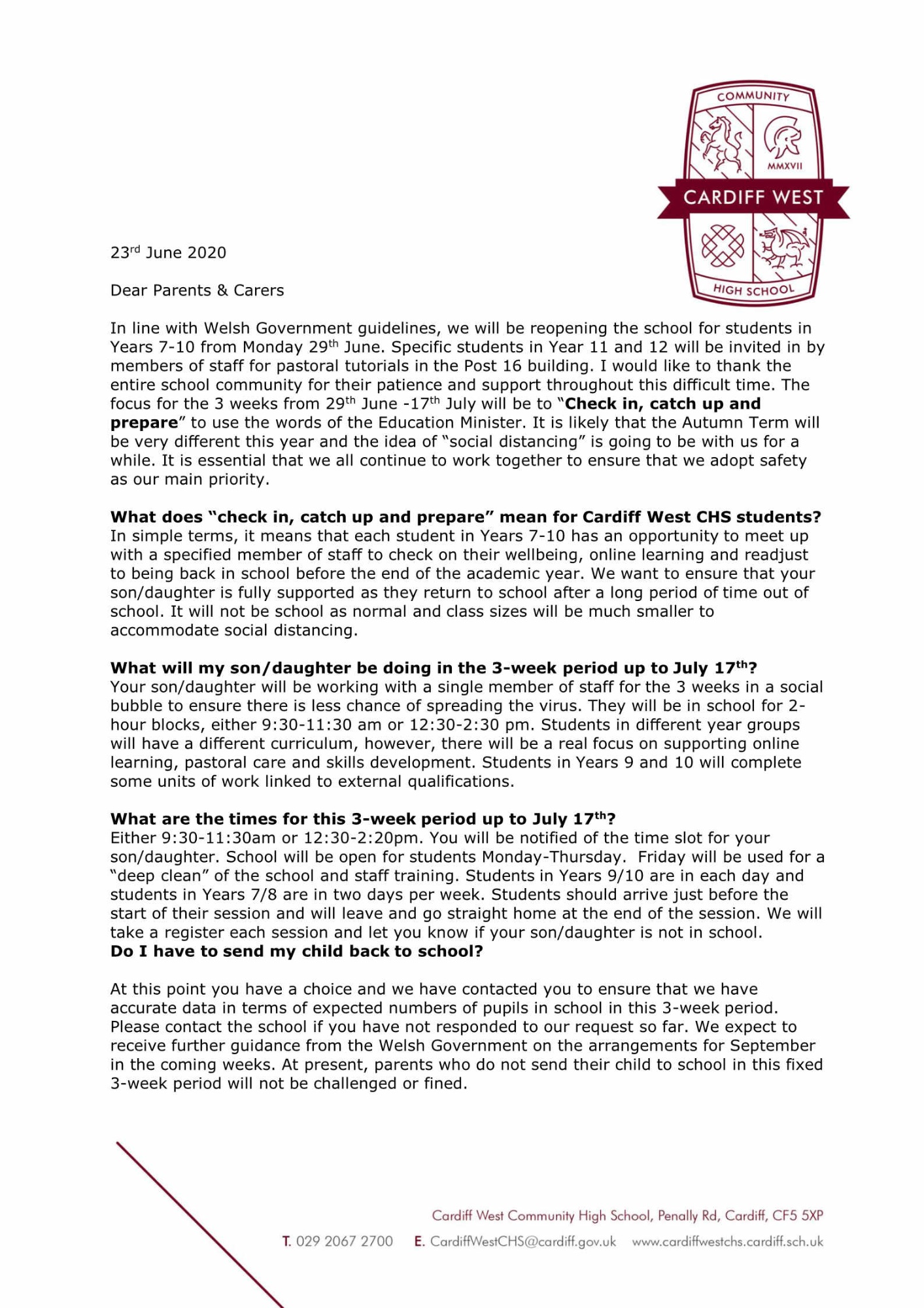 5/6/20
Dear Parents/Carers
Further to the recent text you received about the reopening of Schools in Wales,I would like to reassure you that the Senior Leadership Team here at Cardiff West CHShave been indiscussions with Governorstoday assessing the challenges andimplications of the Education Minister's statement onthe staggered re-opening of our school fromJune 29th2020.
Currently, the content of the announcement lacks specific detail, but a summation of comments made is outlined below:
•Schools will reopen for all year groups (exceptYear 11and 13) from June 29th2020
•The summer term will be extended by one week to July 27th2020
•Schools will be open during the week for limited numbers of pupils
•There will be a phased approach, with year groups being split into groups with staggered starts, lessons and breaks
•All pupils will have the opportunity to "check in, catch up, prepare for summer and September"
•There will be no more than a third of pupils present at any one time
•Schools and Local Authorities will be autonomous in managing this return
•Parents who choose not to send their children to school will not be fined and children who fall into the shielding category will carry on with online learning
This will demand a great deal of careful consideration for the safety and well-being of all concerned and this remains paramount in our planning. We are very much in the initial stages of responding to today's announcement, but please be assured that hereat Cardiff West CHS we have already begun the process of trying to ensure our school is ready to accommodate children in a climate that observes advice issued by Public Health Wales.Further information from Welsh Government is expected next week.
I will communicate the finer details to you as soon as this is available. I will continue to act in consultation with the Governors, staff and Local Authority. My main priority is to ensure that all members of the school community are safe. Thank you for your continued support and patience.
Martin Hulland
Head teacher Cardiff West CHS
22/5/20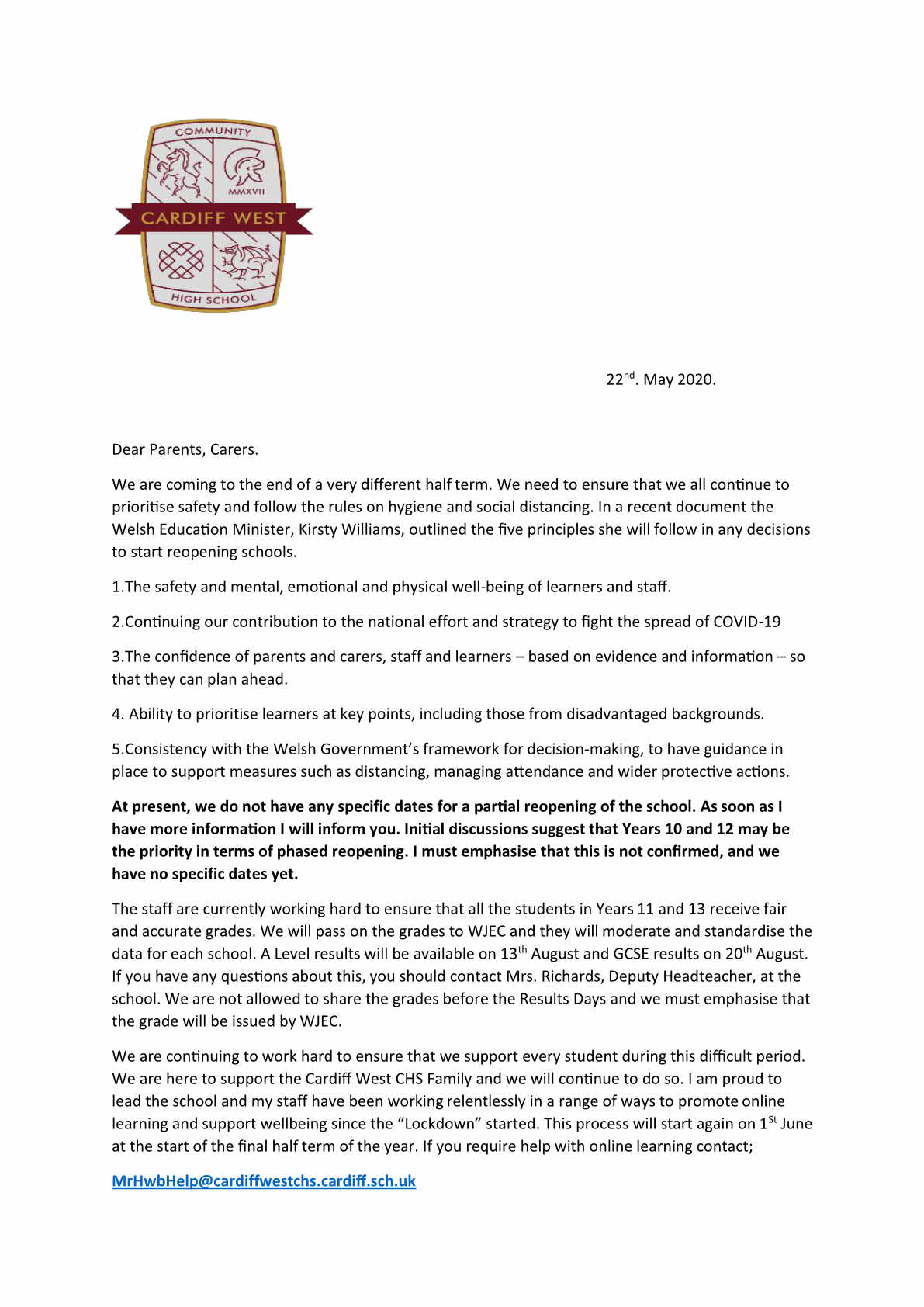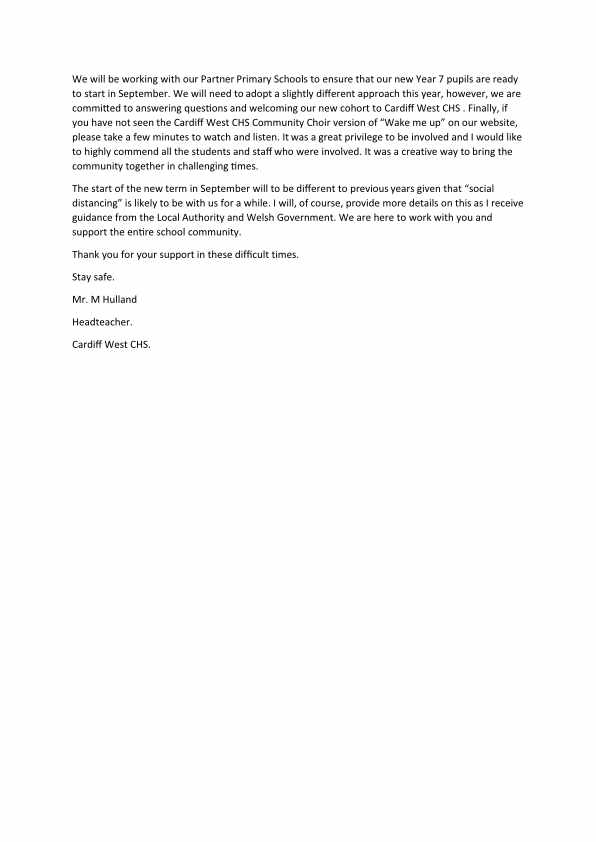 04/5/20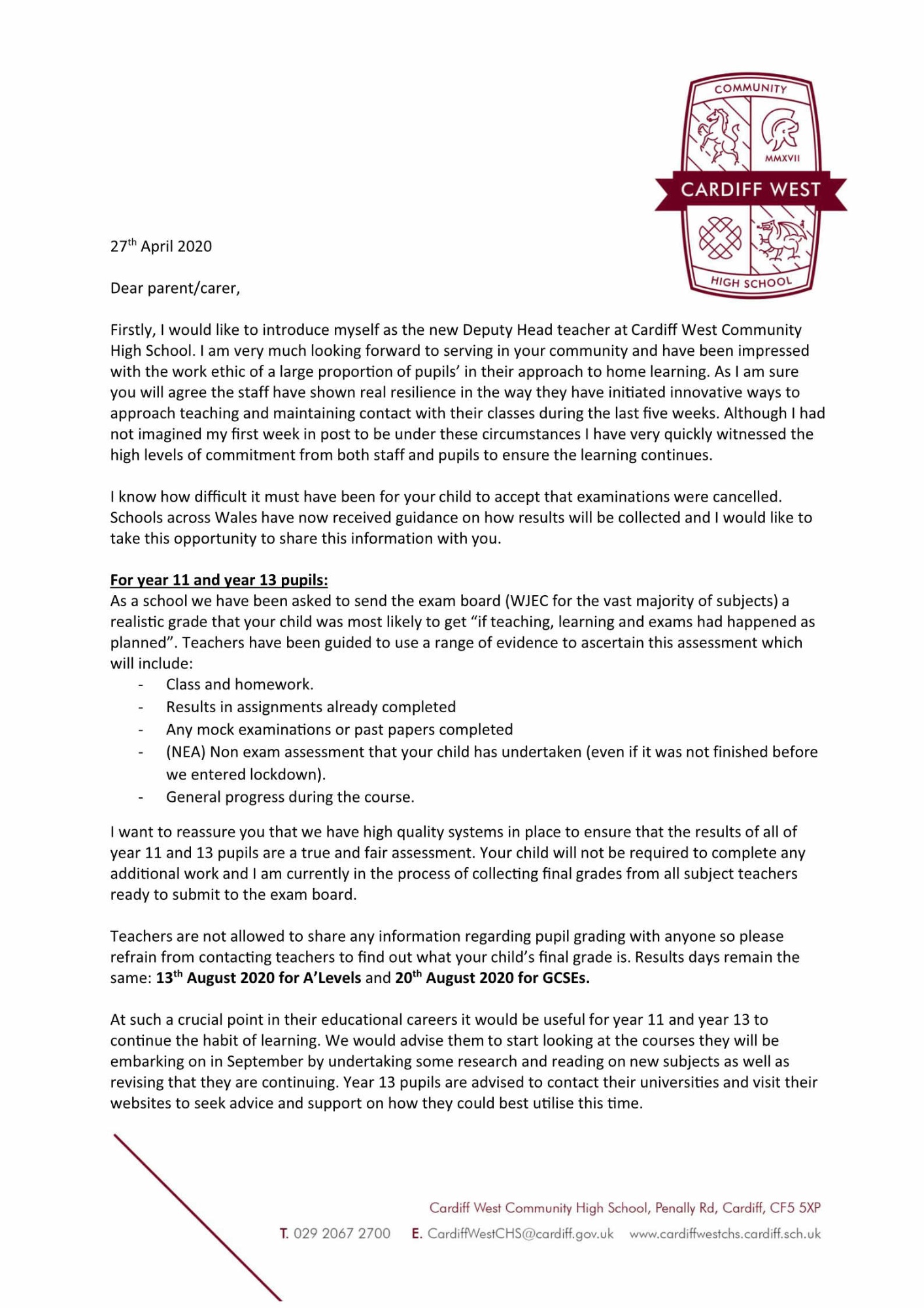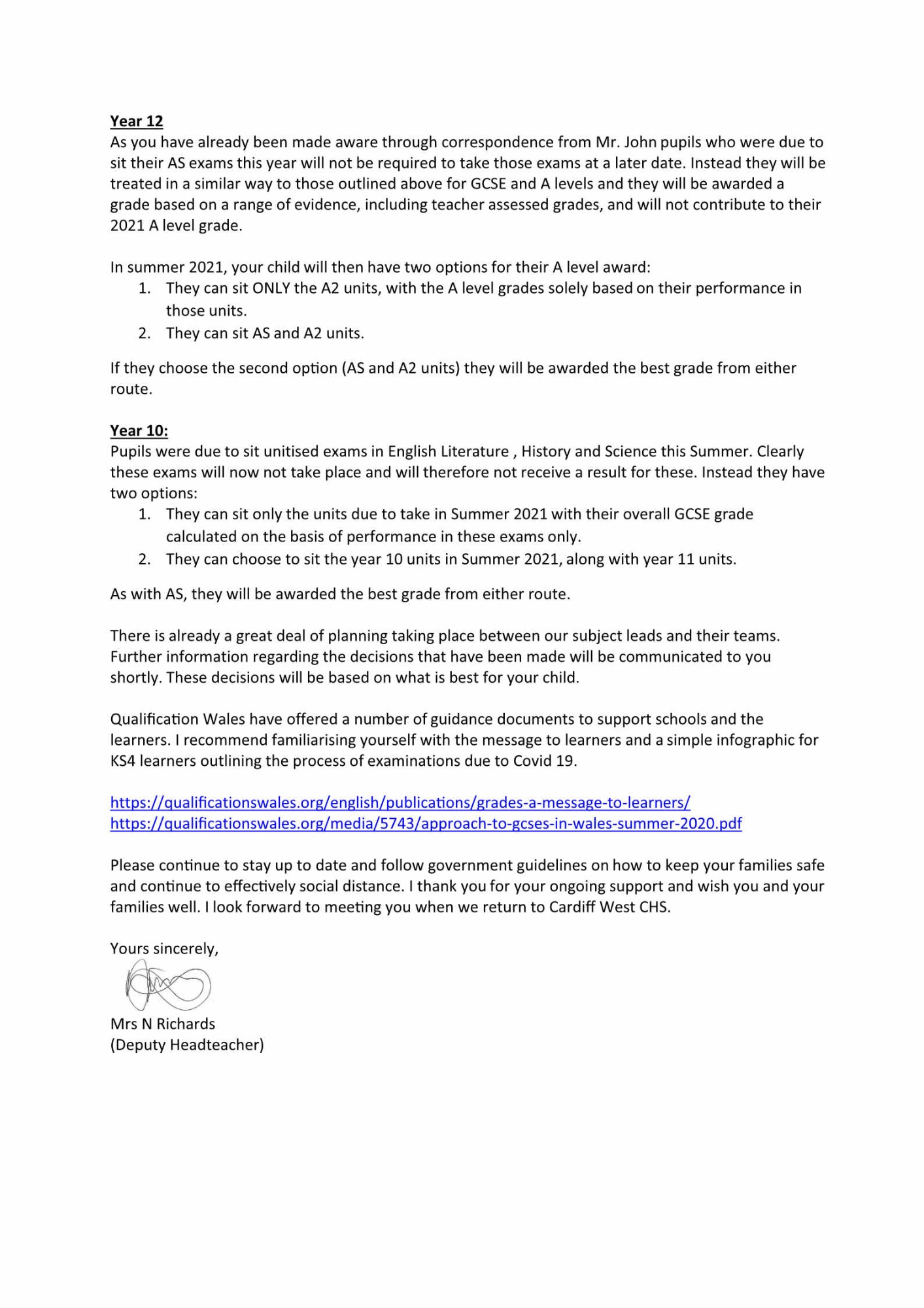 21/04/20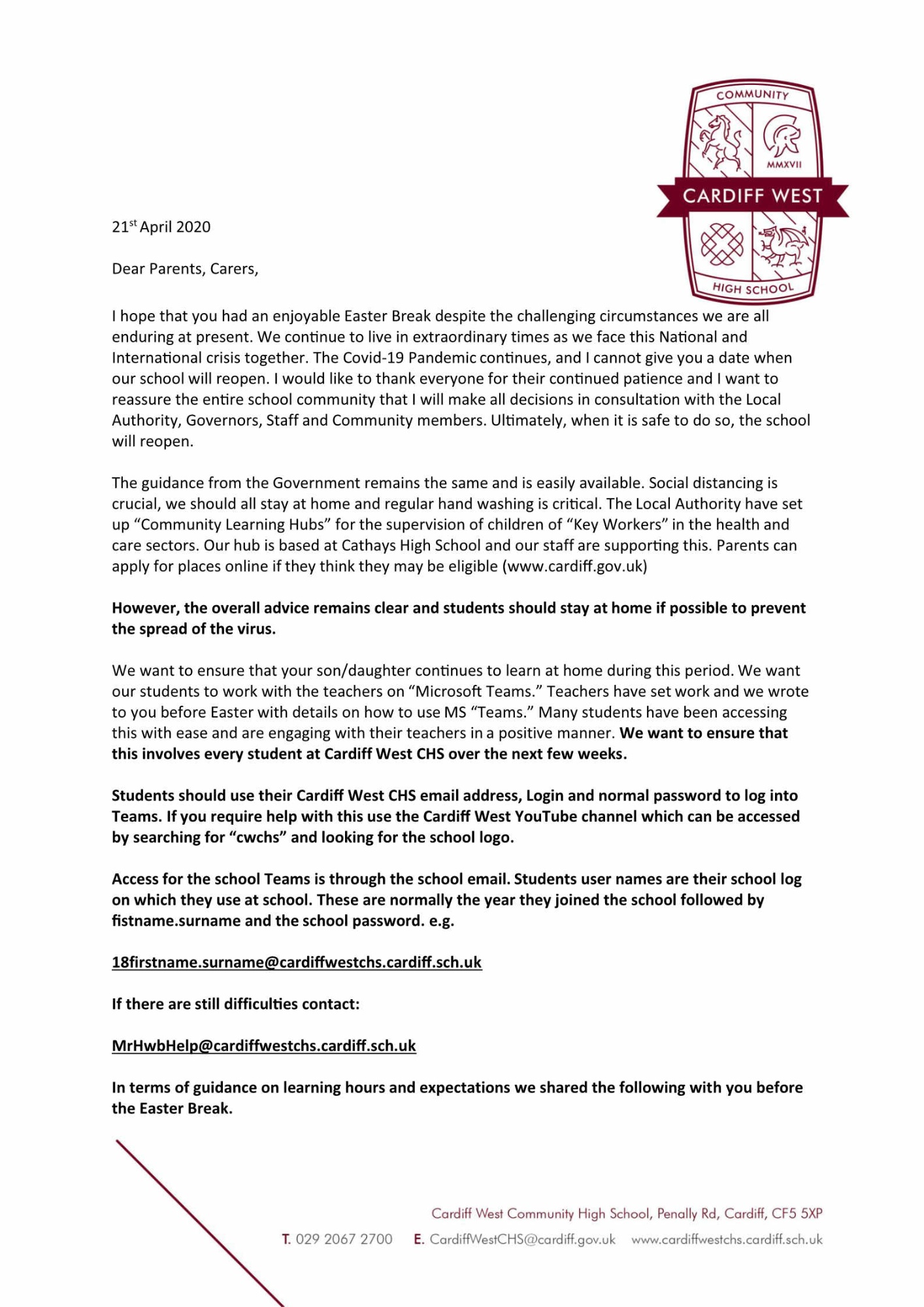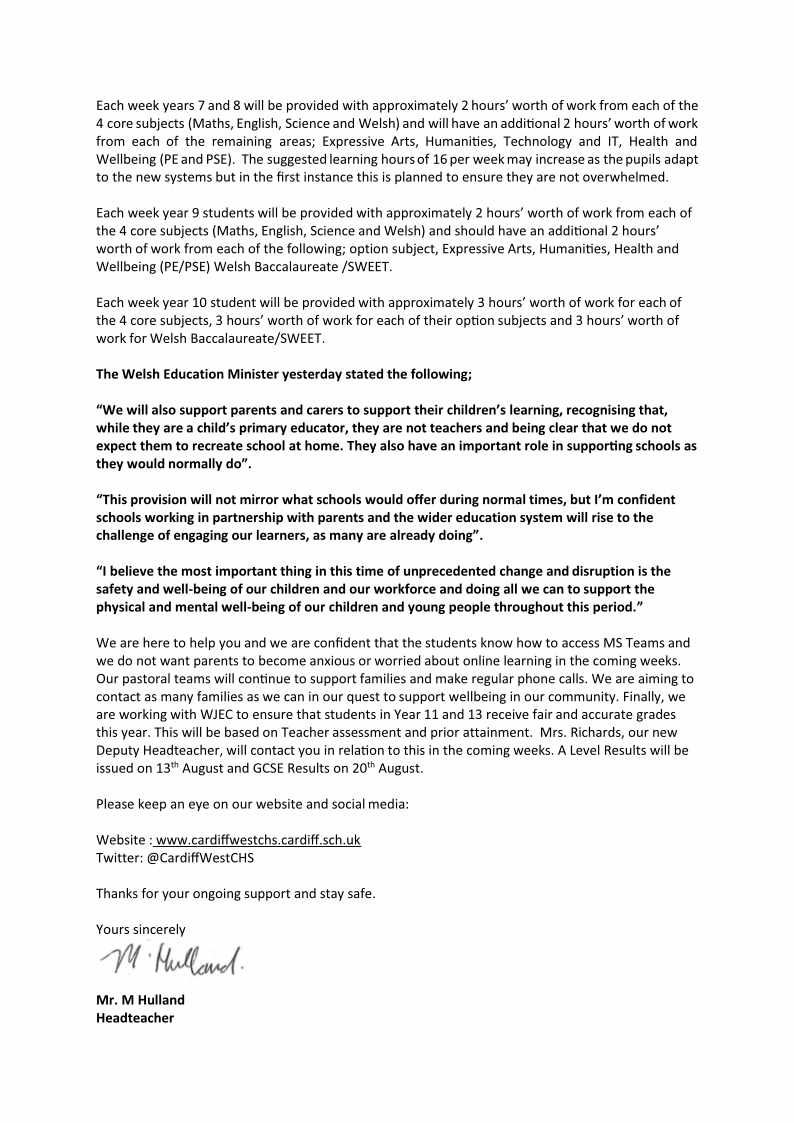 03/04/20
FSM Voucher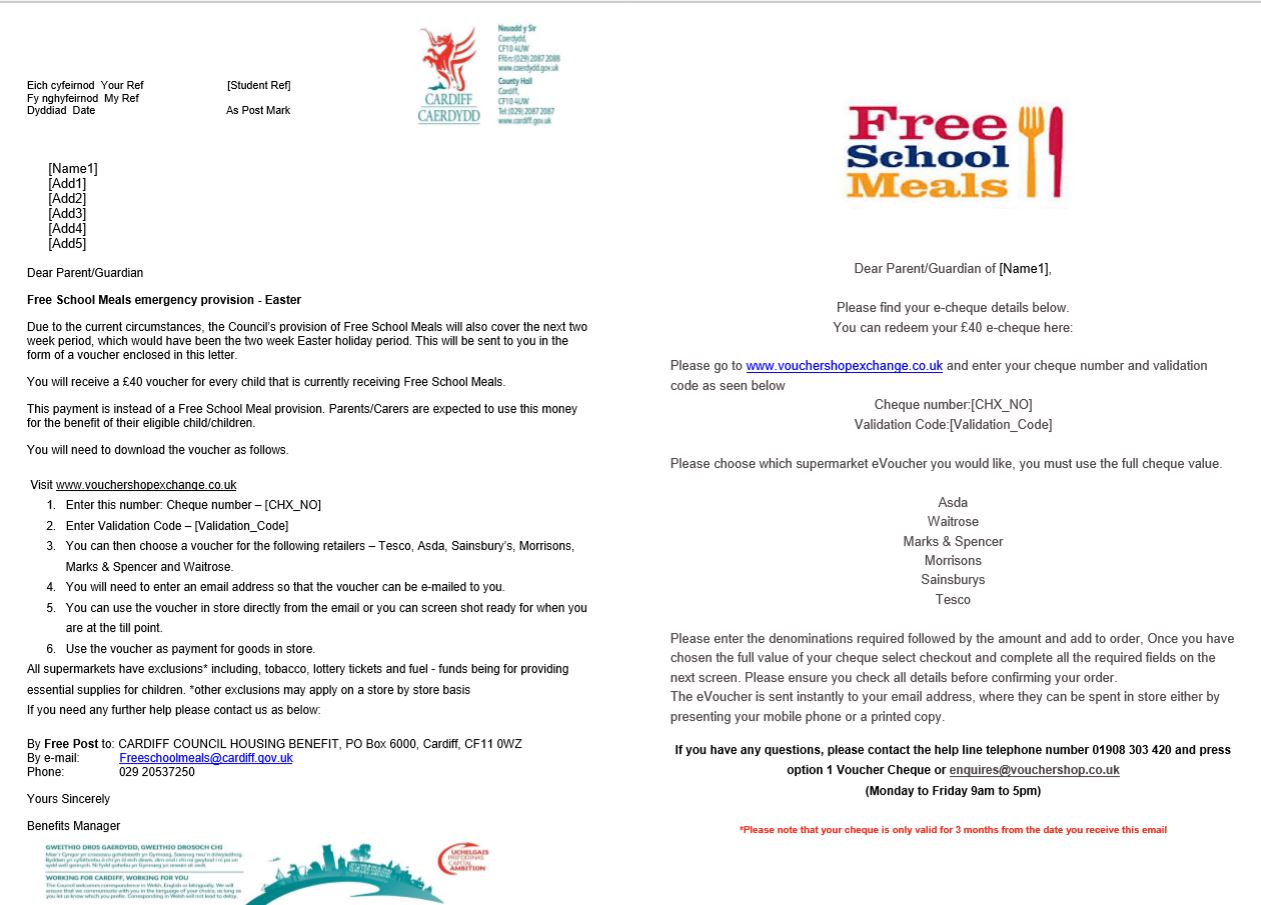 For the digital download please visit the parent portal where it can be downloaded
27/3/20
Key worker childcare information from the local education authority.
www.cardiff.gov.uk/keyworkerchildcare
16/3/20
Letter sent home to parents today from M Hulland, Head Teacher
Re: Coronavirus (COVID-19)
At Cardiff West Community High School, we take the health and safety of our entire school community very seriously. We wish to reassure you that all measures are being taken in line with current medical advice.
As a school we are encouraging all staff and pupils to wash their hands thoroughly and avoid touching their face. Further advice and information can be found on the Government website. Enhanced cleaning arrangements at the school are in place and we check to ensure that soap is available in all toilets regularly.
Extra-curricular activities will be closely monitored and may be postponed or cancelled. To this end we have postponed the Year 10 Parents Evening on Thursday 19th March. We will re-schedule this in the summer term.
We are monitoring the situation closely and working with the Local Authority to ensure that everyone is safe. The school will remain open until we receive any further information from the Government. Closure may be inevitable in the coming weeks and we are acutely aware of staff and student absence at present. Self-isolation is currently in practice and the virus symptoms have been widely reported. These include:
· Persistent coughing
· Fever/high temperature
· Difficulty breathing
· Muscular aches
Clearly each individual and their family need to make a judgement on self-isolation. We would encourage parents to look on the NHS website for further guidance on COVID-19.
We are in the process of collating on-line and hard copies of learning material for pupils about to embark upon external exams. Qualification Wales and WJEC are monitoring the current situation.
Thank you for your support in this rapidly developing situation. We need to work together to keep everyone safe.
2/3/20
Information on Novel Coronavirus (COVID-19)
Cardiff Council is working closely with Welsh Government, the Health Service, Public Health Wales the Emergency Services and many other public bodies on how we can work together to deal with the potential spread of Coronavirus.
The first case in Wales, in the Swansea area, has now been confirmed and Public Health Wales has issued guidance and taken steps to stop its spread. Equally the Council is considering all its operational processes that would support a Public Health Response.
Currently there has been little spread in the UK and the Government Strategy of Contain, Delay, Research, Mitigate is being rolled out around the emerging information on the Coronavirus.
As it stands the country does not hit any of the triggers that lead to the declaration of an Emergency and a strong regime of personal hygiene and a stringent following of public health advice remains the best defence against the spread of the disease.

1) What are the symptoms of Novel Coronavirus?
Novel Coronavirus causes symptoms similar to other respiratory viruses such as the flu. These may include:
Cough
Shortness of breath
Fever

2) How can you be infected with Novel Coronavirus?
Like the common cold, the Novel Coronavirus infection usually occurs through close contact with a person who has the infection.
Close contact means being less than 2 metres away from a person with the virus for more than 15 minutes.
A person can also be infected by touching contaminated surfaces if they do not wash their hands.

3) How can I help prevent the spread of Novel Coronavirus?
There is currently no vaccine to prevent Novel Coronavirus. The best way to prevent infection is to avoid being exposed to the virus through good hygiene.
There are general principles anyone can follow to help prevent the spread of respiratory viruses, including:
Washing your hands often - with soap and water.
Covering your cough or sneeze with a tissue, then throwing the tissue in a bin.
Catch It, Bin It, Kill It
people who feel unwell should stay at home and should not attend work or any education or childcare setting
pupils, students, staff and visitors should wash their hands:
on arrival at school

after using the toilet
after breaks and sporting activities
before food preparation
before eating any food, including snacks
before leaving school
after taking public transport

use an alcohol-based hand sanitiser that contains at least 60% alcohol if soap and water are not available
avoid touching your eyes, nose, and mouth with unwashed hands
avoid close contact with people who are unwell
clean and disinfect frequently touched objects and surfaces
If you are worried about your symptoms or those of a child or colleague, please call NHS Direct Wales on 0845 46 47
Do not go directly to your GP or other healthcare environment
Further information is available on the weblink https://phw.nhs.wales/coronavirus/
Face masks for the general public, pupils or students, or staff are not recommended to protect from infection, as there is no evidence of benefit from their use outside healthcare environments.
4) What is the risk to the general public?
The risk to the general public is low, unless you have recently returned from a specified country or region on this list, or have been in close contact with an individual with confirmed Novel Coronavirus.
16/2/20
Massive thank you to PE Direct for donating and sponsoring our Girls Year 7 football team who came first in the Cardiff & Vale Schools 7 a side league. They now play in the semi finals after half term.
1/2/19
For health and safety reasons the school will be closed today 1st February
24/1/19
Positive Estyn press release.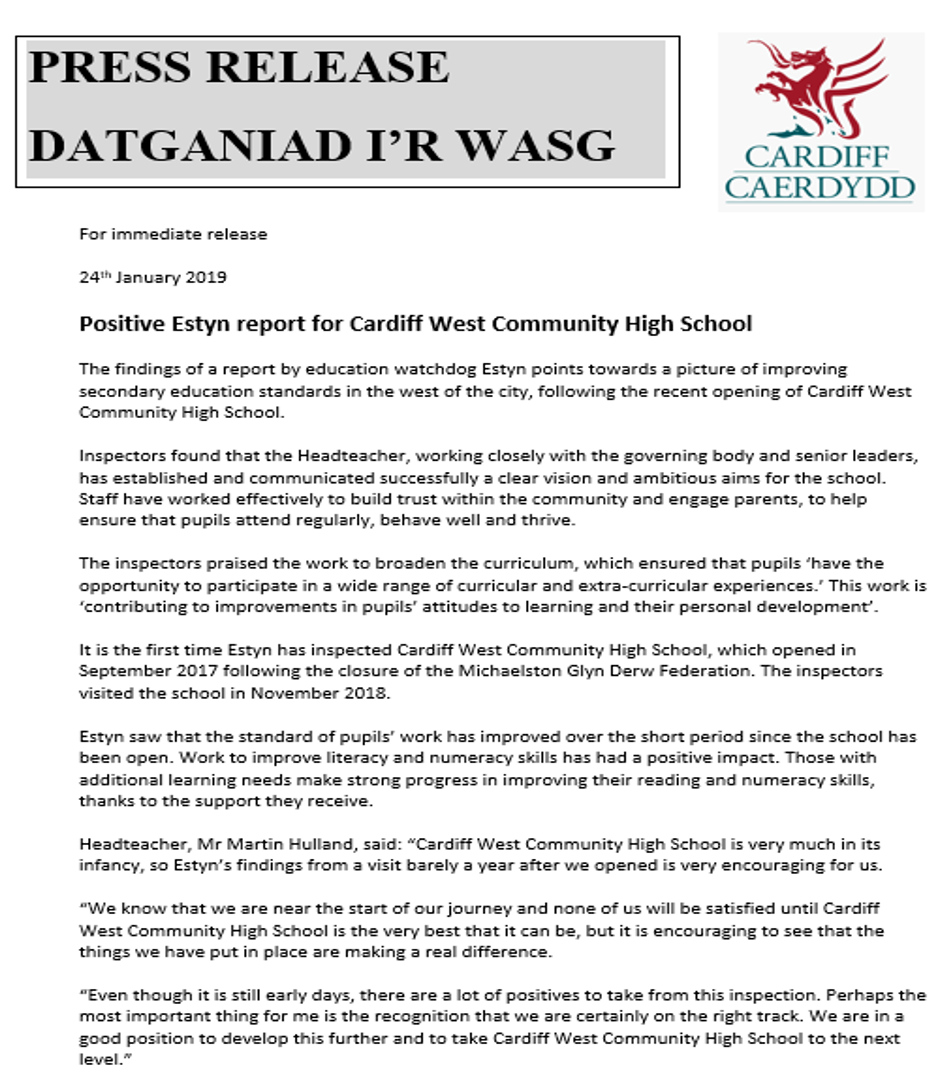 10/10/18
Open evening is tomorrow! Come and take a look around
10/9/18
Cardiff University has reinforced its commitment to a heritage project in a south-Wales community facing social and economic challenges, with a series of new educational opportunities. Please click the link below for more news
5/9/18
Year 7 parents. Year 7 will be remaining on site all week as our trip to the University has been postponed until next week. A letter will be released giving further details.
26/6/18
Hot Weather – advice for the warmer weather
We are expecting this weather to last until Friday. During the warmer weather, for the time being, students do not need to wear their blazer or bring a jumper to school.
Parents and carers – please do take the weather into consideration when planning for the school day. It is suggested that students:
* bring sun cream and water into school
* try to stay in the shade when outside at break and lunchtime
* keep cool and hydrated for learning and lessons
Parents have asked if students can wear PE kit for lessons but this would not be appropriate. Normal school uniform is required at all times.
Thank you to parents and carers for their continuing support of our uniform policy. Our students now look really smart in their uniforms and this goes well with our core aim – we work hard, look smart and are kind. We regularly receive positive comments from visitors and the local community about how fantastic the student look. We rely on you and your family for your support with this.
Martin Hulland
21/6/18
The school will hold an INSET day tomorrow and will be closed to students 22/6/18
29/3/18
Year 11. Saturday school is not running over Easter. This will restart again on Saturday 21st April.
Year 11. Please make the most of the Easter break with a clear revision plan and some focused hard work, prioritising those areas you are weakest at. Remember it is not to late to significantly improve your final grades through some really hard work.
You don't always get what you wish for. You get what you work for.
1/3/18
The school will be closed to staff and students on 2/3/18. Further updates will be provided via social media and through the website.
28/1/17
Students from Cardiff West Community High School will be making another excellent radio show on 29/1/18. Please click on the community link above to enjoy the show live or at your leisure.
22/06/17

DATGANIAD I'R WASG- Dadlennu argraffau arlunydd o ysgol uwchradd newydd sbon Caerdydd

Heddiw mae Cyngor Caerdydd wedi rhyddhau delweddau o'r adeilad newydd a fydd gan Ysgol Uwchradd Gymunedol Gorllewin Caerdydd

Read Full Story

22/06/17

PRESS RELEASE - Artist impressions of brand new Cardiff secondary school unveiled

Images showing how the new building for Cardiff West Community High School will look have been released by Cardiff Council today.

Read Full Story