Latest News
1/2/19
For health and safety reasons the school will be closed today 1st February
24/1/19
Positive Estyn press release.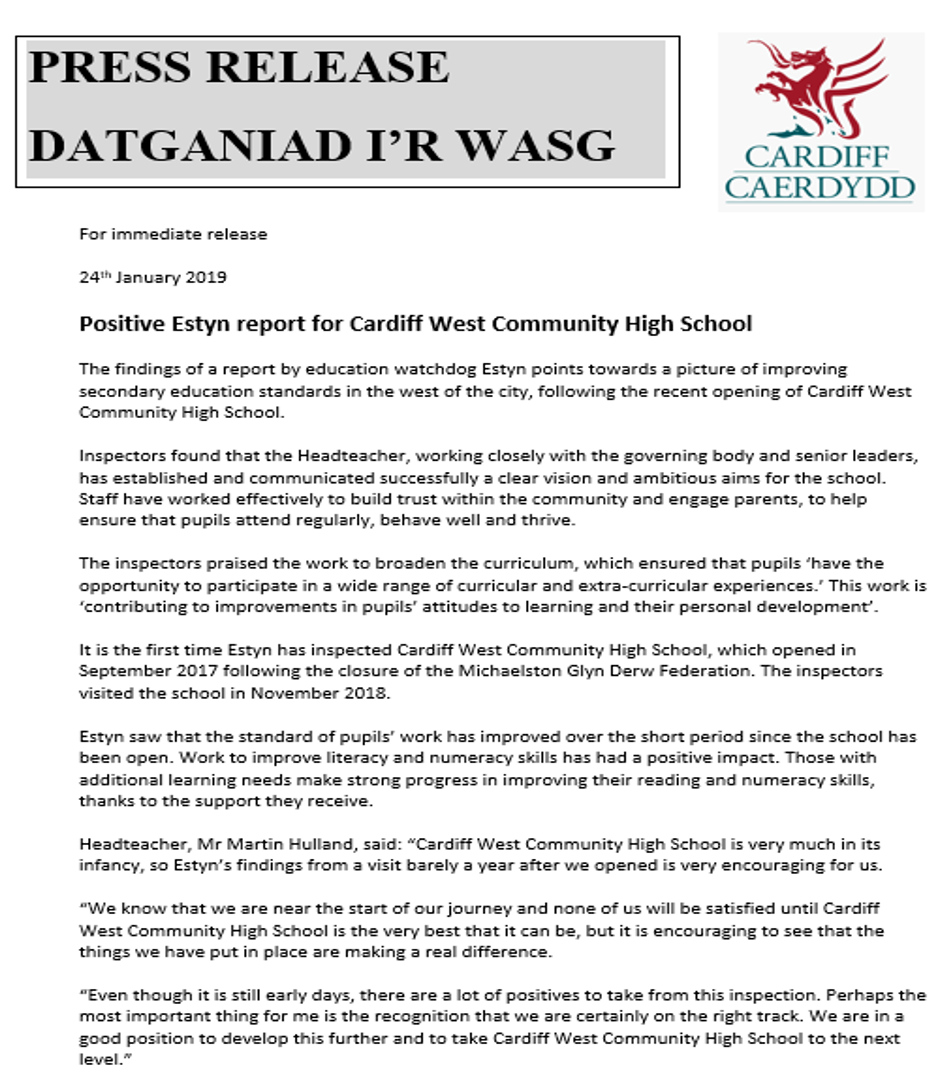 10/10/18
Open evening is tomorrow! Come and take a look around
10/9/18
Cardiff University has reinforced its commitment to a heritage project in a south-Wales community facing social and economic challenges, with a series of new educational opportunities. Please click the link below for more news
5/9/18
Year 7 parents. Year 7 will be remaining on site all week as our trip to the University has been postponed until next week. A letter will be released giving further details.
26/6/18
Hot Weather – advice for the warmer weather
We are expecting this weather to last until Friday. During the warmer weather, for the time being, students do not need to wear their blazer or bring a jumper to school.
Parents and carers – please do take the weather into consideration when planning for the school day. It is suggested that students:
* bring sun cream and water into school
* try to stay in the shade when outside at break and lunchtime
* keep cool and hydrated for learning and lessons
Parents have asked if students can wear PE kit for lessons but this would not be appropriate. Normal school uniform is required at all times.
Thank you to parents and carers for their continuing support of our uniform policy. Our students now look really smart in their uniforms and this goes well with our core aim – we work hard, look smart and are kind. We regularly receive positive comments from visitors and the local community about how fantastic the student look. We rely on you and your family for your support with this.
Martin Hulland
21/6/18
The school will hold an INSET day tomorrow and will be closed to students 22/6/18
29/3/18
Year 11. Saturday school is not running over Easter. This will restart again on Saturday 21st April.
Year 11. Please make the most of the Easter break with a clear revision plan and some focused hard work, prioritising those areas you are weakest at. Remember it is not to late to significantly improve your final grades through some really hard work.
You don't always get what you wish for. You get what you work for.
1/3/18
The school will be closed to staff and students on 2/3/18. Further updates will be provided via social media and through the website.
28/1/17
Students from Cardiff West Community High School will be making another excellent radio show on 29/1/18. Please click on the community link above to enjoy the show live or at your leisure.
22/06/17

DATGANIAD I'R WASG- Dadlennu argraffau arlunydd o ysgol uwchradd newydd sbon Caerdydd

Heddiw mae Cyngor Caerdydd wedi rhyddhau delweddau o'r adeilad newydd a fydd gan Ysgol Uwchradd Gymunedol Gorllewin Caerdydd

Read Full Story

22/06/17

PRESS RELEASE - Artist impressions of brand new Cardiff secondary school unveiled

Images showing how the new building for Cardiff West Community High School will look have been released by Cardiff Council today.

Read Full Story